Meet the Founder and Owner, Sorin Giurca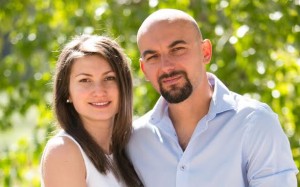 Sorin is the hands-on craftsman and owner of Artisan Hardwood Floors. His passion for creating beauty in hardwood flooring drives the company's insistence on perfection.
Installing and restoring wood flooring is hard work, "grueling at times, even," says Sorin. And, even as he runs Artisan Hardwood Floors and builds its reputation in Reno and Tahoe, Sorin makes sure he is on the job at every job.
Sorin was born in a small medieval town at the bottom of the Carpathian Mountains. He learned the craft of wood working from his grandfather who was a skilled craftsman. When he grew up he decided to pursue his other passion: animals. Due to his love towards animals, especially horses he went to the University of Veterinarian Medicine.
When he moved to USA he reconnected with his passion with wood working by working in the hardwood flooring trade in Chicago. Sorin and his wife, Daniela, who is also from Romania, met in Incline Village and opened their family business, Artisan Hardwood Floors. Since then, they have endeavored to preserve and perpetuate the same work ethic's uncompromising attitude towards quality and customer service.
"I like the hard work of wood flooring installation and restoration," says Sorin. "There's a satisfaction when you finish. It feels good. The customer's happy. I'm happy. And the floor is always a beautiful work of wood."
Sorin provides expert insight into what woods and wood products work well in this region and which ones will simply not last. He also has an artist's eye for what enhances and what detracts.
He takes the craft of wood flooring installation and refinishing to the level of art – whether he's working on a historic heirloom floor or an affordable laminate floor.
Affordable Wood Flooring Installation and Refinishing in Reno and Tahoe
Artisan Hardwood Floors brings old-world craftsmanship to the high desert and mountain regions of Reno, Northern Nevada, and Lake Tahoe  — with a deep understanding of all wood flooring and the effects that climate can have on it.
Go right to the best: Call Artisan Hardwood Floors!
775.830.4243