Hardwood Floor Finishing and Refinishing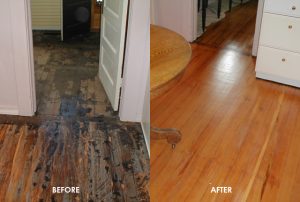 Hardwood floor finishing and refinishing here in the Reno/Tahoe area may not be as labor intensive as installation, but the process is just as exacting. A wide variety of coatings and finishes are available for you to take advantage of, depending on your needs and taste. It's important to note that many of these finishes are hazardous, as well as difficult to mix and apply. Those kinds of finishes are only available to licensed professional flooring contractors.
Today I'd like to discuss a few of the more popular products used in hardwood floor finishing, to give you a better idea of what you may want to do in your home or office. As well as cover the most important step in the entire process:
Preparation for Hardwood Finishing
It bears repeating, preparation is the single most important step in hardwood floor finishing. If any of these steps are skipped or not performed well, the end result can be disastrous.
First, remove all furnishings and draperies must be removed from the rooms to be refinished. Then, all of the floor level moldings must be carefully removed without gouging the walls or floor. It's best to remove all of the floor level electrical face plates too. Outlets, light switches and vent ducts should be masked off as well, because keeping sawdust from infiltrating those can save you a lot of headaches in the future.
The floor must be vacuumed or swept thoroughly. There shouldn't be anything to see but bare floor. Then a drum sander is used to remove the old finish, leaving behind a completely smooth floor. An edging sander or hand sanding block works best near the walls, preventing damage to your wallboard.
The Swedish Finish
The Swedish finish is an alcohol-based hardwood floor finishing product, popular for its durability and ease of maintenance. There is very little cleaning, waxing or buffing required. The one key disadvantages to the Swedish finish however, is the odor caused by volatile substances within the product. You may need to vacate your home for up to four weeks after the hardwood floor finishing is applied. Some manufacturers say their Swedish finish can take as long as 90 days to completely cure.
Water Based
Water-based hardwood finishes are eco-friendly, and becoming increasingly popular. They lack the volatile compounds of most commercial products used for hardwood floor finishing. Two-component water-based finishes can be more expensive than one-component varieties, but they are also more durable. Three coats of a water-based hardwood floor finish will work as well and last as long as two coats of Swedish finish. Non-catalyzed hardwood floor finishes can also be used, they dry quickly and have the durability of water-based coatings while delivering the rich warmth of polyurethane hardwood floor finishing.
Oil Based
Oil based finishes are the oldest, most trusted product in hardwood floor finishing. It is a cost effective means of bringing out the exceptional beauty of your hardwood floors, in a way that other finishes can only try to capture. Your hardwood flooring absorbs the oils, resulting in a vibrant enriching of the grains and natural patterns in the wood. Oil based finishes can however sometimes yellow the overall appearance, which some people consider undesirable. Oil-based finishes and stains are available in a variety of colors which allow you to customize your floors to match your personal sense of style and decor.  Best of all, you can walk you oil based finished floors a scant 24 hours after application. But do bear in mind they can take up to two weeks to fully cure.
Professionally Finished
Of course, the very best way to ensure your hardwood floor finishing or refinishing here in the Reno/Tahoe area is perfect, is to hire an artist to perform the job. That's where Artisan Hardwood Floors comes in. We are masters at bringing out the natural beauty and luster of your hardwood floors, and we are certified to use and apply every product available.
Why don't you contact me right now while the idea is fresh in your mind?
Sorin Giurca
Artisan & Owner