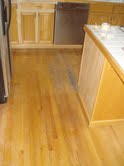 Do You Need to Refinish?
In my years in the hardwood flooring industry, I have seen many floors that need refinishing. Refinishing is when the entire floor is sanded down to be level again, thus restoring the grain and beauty of the natural wood below the scratches and wear patterns that years of foot traffic can incur.  A dependable finish is necessary to keep the floor protected and provides the beautiful glossy shine that makes your floor really stand out.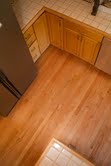 A Typical Refinishing Issue
As you can see here, the wear spot that was detracting from the overall beauty of the home (above picture), is beautifully restored here.  Although the picture at the top captures the worst area in the room, the floor had some minor maintenance issues in other areas as well. Normal wear and tear can be expected to affect your hardwood floor over time, but that is where refinishing can restore your pride in your home and your floor to its previous glory, just like in this case.
A Simple Solution
The worst thing for wood is water.  If there is a spill, it needs to be cleaned up immediately.  Many commercials for products either show or recommend the use of liquid cleaning agents for hardwood surfaces. This is not to be trusted!  See our normal maintenance tips below in order to keep your hardwood floor looking beautiful for years to come.
Normal Maintenance for Wood Flooring
 Sweep and Vacuum: should be done regularly – use a dust mop but do not use any dust treatments (they dull the finish).
Clean your wood floors: use a damp cloth or  a recommended cleaning product.
Never wet mop a floor: water deteriorates the wood itself and can cause damage to the finish.
Clean stains with a damp cloth.
Never leave spills of water to dry on the floor.
Control humidity levels: these are very important – wood flooring performs best between 30% and 50% humidity (use a humidifier or dehumidifier as needed).
For more tips or a specific question, contact me today at 775-830-4243!