Subfloor prep is serious business.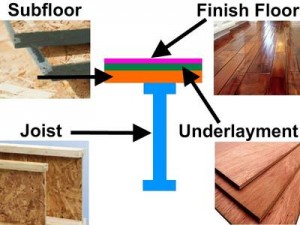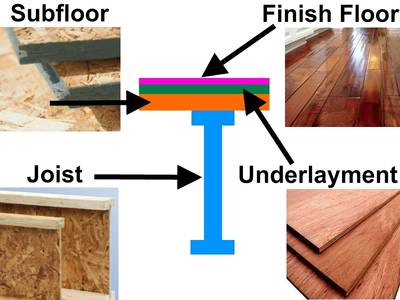 Proper subfloor prep will make all the difference in the overall quality and longevity of your hardwood floor.
There are different process for each type of subfloor, but the main ideas are the same, whether you're in Reno or around Lake Tahoe:
Level the subfloor
Clean the subfloor
Protect the new hardwood flooring
Level the subfloor
Making the subfloor level is esssential for a squeak-free walking surface that lasts. If you have a concrete subfloor you can use a self-leveling concrete which will flow into the low areas and harden evenly across the floor.  If you have a wooden subfloor, the process can be more involved. There are several ways to layer and taper different materials (plywood, shims, OSB, felt) so that minor to large dips are leveled out; however, if your wooden subfloor is really bad – replacing it may be faster, cheaper, and less stressful in the long run.
Clean the subfloor
The most popular hardwood flooring solutions are relatively thin – from a few mm to less than an inch in thickness. This means anything left between the subfloor and the hardwood flooring can cause the new floor to crack, split, break free from its adhesive, or cause the tongue and groove to be misaligned. Any of these issues mean big problems for your floor (and you) down the road.
At a minimum, your subfloor should have any leftover remnants of previous flooring completely removed (carpet padding, previous adhesives, etc.) as well as anything sticking up pulled out (staples, tack strips) or banged down (nails, etc.) before sweeping and then vacuuming the entire floor space where the new flooring will be installed.  This is another place where replacing the subflooring may actually be faster, cheaper, and less stressful.
Protect the new hardwood flooring
There are different types of materials used for hardwood flooring underlayment. Your specific type of new flooring will recommend the kind you should use with their product.  Underlay works as a sort of catch-all, it pads (minimally) , but it also protects the hardwood flooring from moisture and the subfloor.
Make sure you read the directions on which side is up before you start!
Subfloor prep is important, so if you don't feel you have the time or energy to do it right – give me, Sorin, a call at 775-830-4243 and I can take the headache and problems away with a custom hardwood flooring install – worry free.