Are your hardwood floors suffering from stains, uneven coloring from fade and wear, or just a generally dingy exterior? We can help!
We are experts at taking a beat up hardwood floor and turning it into a rich masterpiece that increases the value of your home.  We refinish or resurface hardwood floors in the Reno and Lake Tahoe area and we can bring the shine and beauty back to your hardwood floor, too.
Hardwood floor refinishing can breathe new life into original hardwood floors in an older home
Many of the homes we go into have been older homes which had hardwood flooring originally and have had carpet over them for 40 years.  Carpet over your hardwood floors can wear out and grind dust, dirt, and sand into the face of your hardwood floor over time. It is still possible to refinish or resurface these floors to restore the original color and texture.
Is there a stain marring the beauty of your home?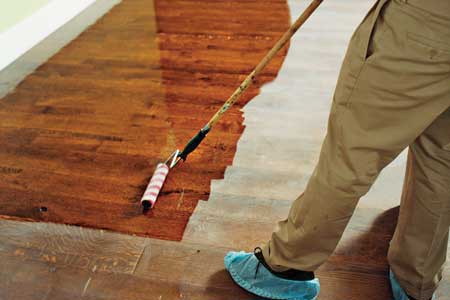 Floor stains can be difficult to remove, and sometimes you inherit them from previous owners.  We know how to get the stain out and refinish the floor so that the color is even throughout the room or home.  Don't let a stain on your hardwood floor reduce the overall beauty of your home.
Have your walkways worn down?
We all know the wear patterns that form on the floor of our homes due to high traffic areas of the house – usually along the hallway and entrances to each room or in front of furniture that is used frequently.  These areas can become obvious when moving or rearranging furniture in your home. One of the most common culprits for this is a rug – one that sits in the same place over time will change the wear pattern under the rug due to the lack of light.  Every case is different; however, we can generally work the floor back into being even and shining like new, depending on the level of damage.
Not sure what your floor needs?
Call me, Sorin, to schedule an in-home consultation at 775-883-4243. I will come out and look at the current state of your hardwood flooring, sit down and discuss what you would like to see, and give you realistic expectations for your floor refinishing so you will know what to expect from our services.
I look forward to hearing from you!